Nature is an eternal inspiration for art and design, which continually strive to combine and evoke the senses of beauty, relaxation, and serenity that emanate from all corners of the natural world. Spring blossoms, vermilion sunsets, autumn leaves, rippling waves: connection with nature is a basic human need, and nature is already well known as having a beneficial effect on people, bestowing positive emotions and energy.
Against the backdrop of the intense urban reality of 21st century lives, the desire to connect with nature has taken on even greater significance, alongside the understanding that physical distance from a natural environment does not necessarily imply detachment from nature's beauty and positive associations. In recent years, we can see how the worlds of design and architecture have aimed to blur the boundaries between interior and exterior, introducing natural elements and materials into the home. The crisis of the last two years has only enhanced this trend. As circumstances forced us to spend more free time within our homes, this period highlighted the true value of a relaxing, all-enveloping living space – and the inimitable ways in which natural touches can achieve that effect.
By combining genuine plant life alongside colors, materials, shapes, and elements that are either natural or resonate with natural character, the home space can be imbued with a pleasant calmness that influences the mind as well as the internal ambience. As materials and colors all have their own distinct meanings and attributes, integrating them within the home enables those qualities to flow into the space, such as the warmth of wood, the primal textures of stone, and the freshness of green plants.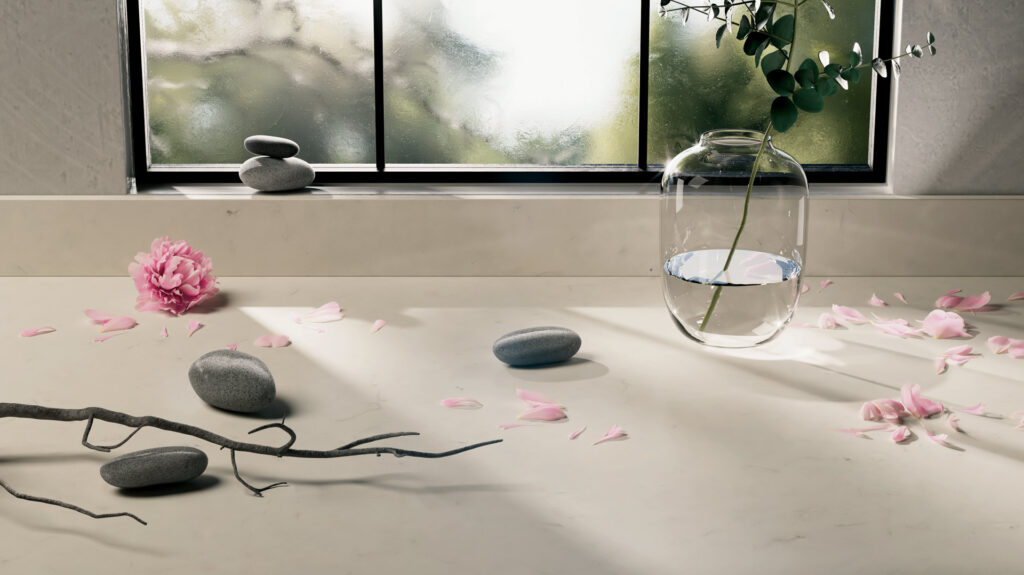 There are endless diverse ways to weave nature's positive presence into the home space: a bright, natural palette with earth tones, or green shades that are seen to symbolize the natural world; natural finishing materials for cladding and flooring; textiles with nature-inspired textures; ornaments with patterns drawn from plants or wildlife; decorative items clearly hand-made from natural materials; elements that include natural objects or primitive patterns that are associated with nature.
So it is with Pebbles, Caesarstone's new 2022 surface collection, inspired by the seemingly simple appearance of these small stones that tell the story of the water, wind, earth, and sun that have shaped them over the years. These elements, carrying within them the primal wisdom of nature, remind us that nature is an invaluable foundation and source of inspiration, while also reinforcing our commitment to protect and conserve it.